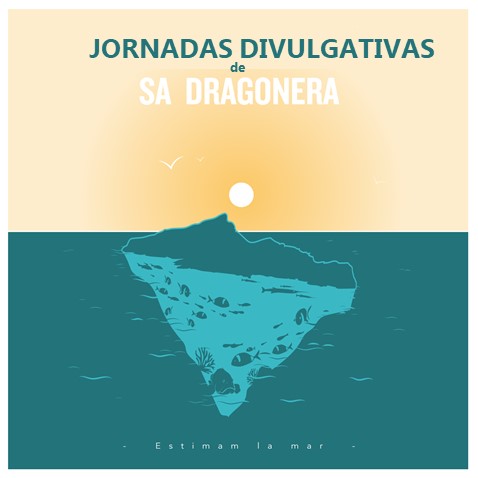 05 nov. - 07 nov. 17:00 -13:00
Jornadas divulgativas Sa Dragonera
JORNADAS DIVULGATIVAS SA DRAGONERA
05/11 SALÓN DE PLENOS DEL AYUNTAMIENTO DE ANDRATX (17:30- 20:30h)
Welcoming and a brief introduction to the conference
The role of the public administration in the Marine Reserve (MR) and the anniversary of the MR.
Summary of the project "Discover Your Marine Protected Area Sa Dragonera" in 2021
Screening: An underwater universe in the waters of Sa Dragonera
FotoCollab MARE-Dragonera - Sara García (Coordinator of the contest MARE)
Vi de la terra, music and photography exhibition
06/11 SALÓN DE PLENOS DEL AYUNTAMIENTO DE ANDRATX (16:30- 20:30h)
Welcoming and a brief introduction to the conference
A Community Committed To Sa Dragonera
Dynamics: Xarxa Dragonera Blava (the Blue Dragonera Network) - Roberto Nello, facilitator
FROM COMMITMENT TO PARTICIPATORY CONSERVATION
Closing of dynamics: Xarxa Dragonera Blava - Roberto Nello, facilitator
Vi de la Terra, music and networking
07/11 SANT ELM (10:30-13:30h)
Discover the Sa Dragonera Marine Reserve from the coast of San Telm
Activities Guided walking tour along the coast of Sant Telm, discovering coastal marine habitats, identifying citizen science initiatives that can be carried out in the area and much more.
Activity with Keida Kayak and MedGardens. If weather allows, snorkelling in the area.
Sign ups: xarxadragonerablava@gmail.com
Colaboran